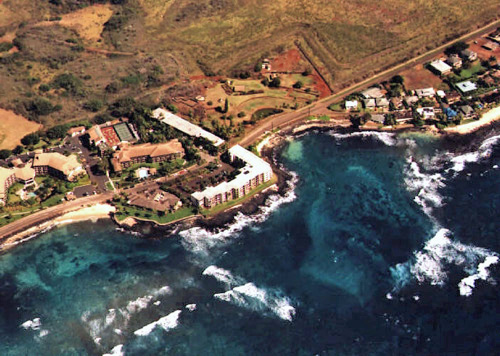 This is a view of Kuhio Shores from overhead very high in the sky. It is a great photo because you can actually see Kuhio Shores, the 2 great beaches on each side, the reef and the breaks where the surfers go just out front of the building. The building to the left in the photo is the Beach House Restaurant which shares the grounds with Kuhio Shores. Directly behind and across the road is the Lawai Resort and Prince Kuhio Resort. The road is Lawai Road which intersects Poipu Road and dead-ends one mile up at Spouting Horn and the Allerton Tropical Botanical Garden where they filmed Jurassic Park.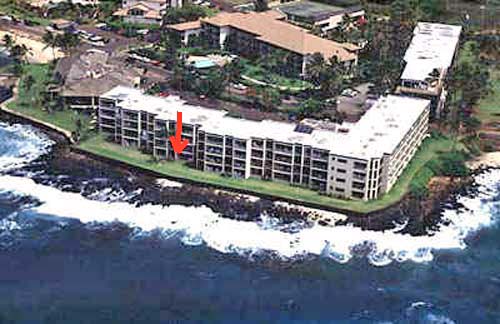 This is a closer arial view of Kuhio Shores. The red arrow marks our condo. It is a walkout which is so convenient it feels as if the ocean is in your living room. Walk out and go to either side of the building to snorkel or swim or surf. The facing on the west end of the oceanfront side is great for watching the surfers and the sunsets!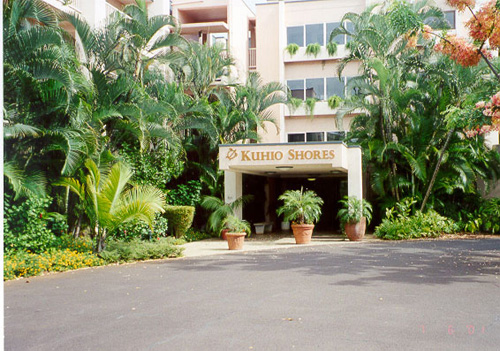 The main entry to Kuhio Shores is off Lawai Beach Road. The front of the building is where you park and enter the complex. It has a nice variety of Hawaiian flowers and plants. The entry under the sign is where you go to sign in or to take the elevators. It is also where you will find the laundry rooms.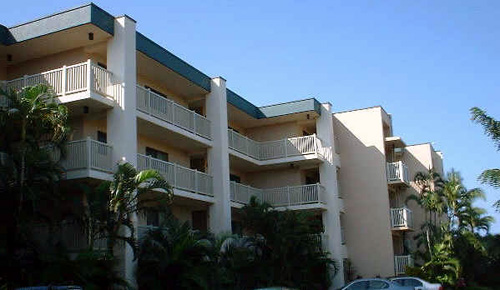 Just to the right of the entry is the North side or street side of Kuhio Shores. This is where you enter the various condos.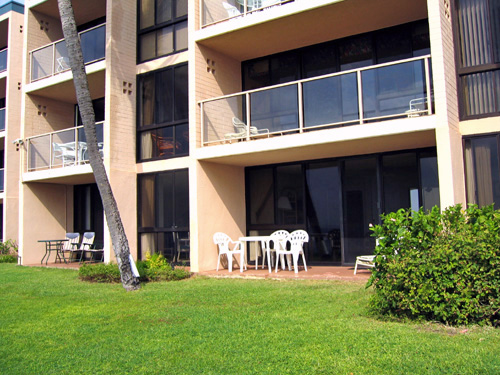 And of course, the lanai that faces the ocean which is just 10 steps away! You can see our palm tree just in front of our condo which is on the ground floor. The large opening to the ocean is 24 feet across! The dining room also has a great ocean view. Keep an eye on the palm tree as it will give you a bearing in the next few photos.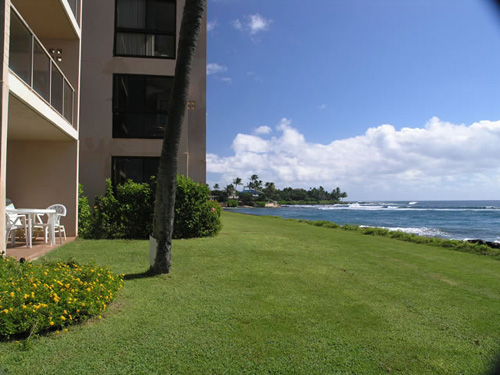 The is a view from the lanai looking east toward Prince Kuhio bay. The ground-level lanai with the white table in the left of the photo is our Kuhio Shores #115.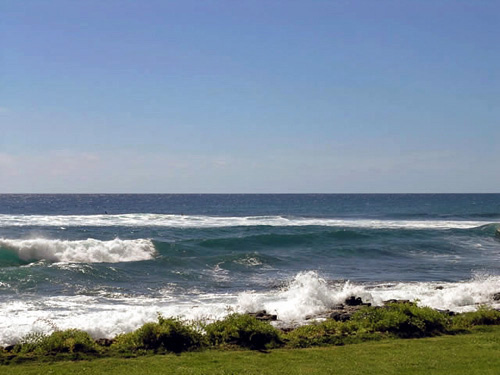 An if you look streight out from the lanai you will be looking south at the wide expanse of the ocean and the famous PK Surf spot is just to the right (next photo). You can sit on the lanai or in the living room and watch sail boats and birds and porpoises, and sometimes whales pass by!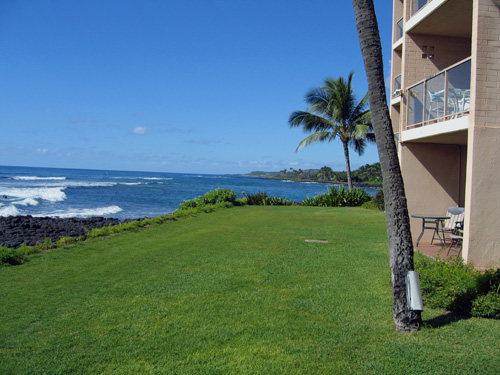 Looking just to the west from the lanai you see the Lawai bay great for snorkeling amd sunbathing and the direction to look for a nice sunset (see photo below).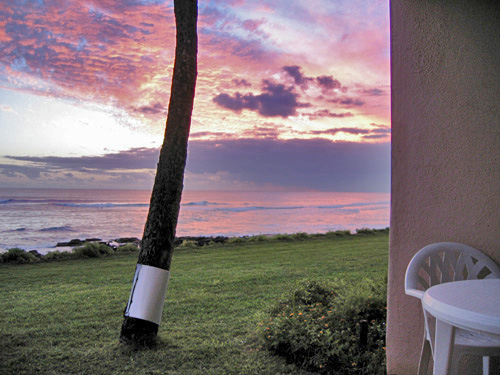 As promised, a photo of the sunset from the lanai. Oh, how about a photo of the sunrise from the lanai. Check out the next photo!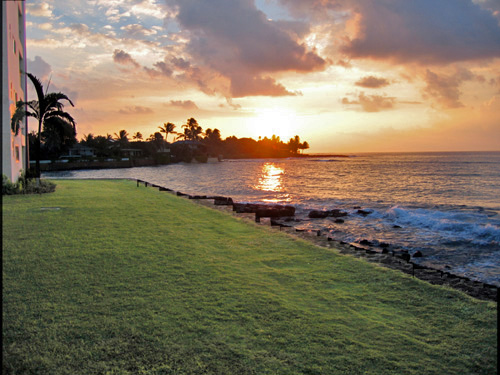 Click here to return to our Kauai Vacation Rental
Condo home page

Kauai Condo Home | Beach Pictures | Kauai Activities
Condo Pictures | Grounds Pictures | Guest Comments
Availability | Rental Policy


---